East Bali Trips. Those different parts in Bali keep different secret that might not be revealed yet. This is why you should explore Bali deeper when you find that every place in Bali seems to be quite familiar. You might feel it has been quite common to go to Bali for a vacation since you no more idea of new places to visit. However, you might need to check this one out. The one which is located in the eastern of Bali will give you a different experience for your next vacation. Although it might let you experience more the traditional village with its unique culture, there will be more of it.
This kind of trip to eastern of Bali will let you immerse to the social life in Bali traditional culture. This is the option that you should take when you look for a totally different experience. Being in the middle of the social life in Bali can give you a different atmosphere of harmony in the middle of Bali nature. Besides, you will also find that it is also possible to still visit some more places there. For example, you can go to Ujung Water Palace and Tirta Gangga Water Palace
Places of Interest will be visit during East Bali Tour
Goa Lawah Temple
First site we will visit during East Bali Trips is goa lawah temple. There is big temple used by Balinese Hindu as a place to worship to the god. This temple is one of the biggest temples in Bali and the location is strategically beside of main road from Denpasar to East Bali Islands. The blue ocean is just apposite of this temple with the black sand unfolding throughout the coasta. In Goa Lawah consists of two syllables of the cave, which means cave and Lawah which means bat cave where Lawah tail inhabited by thousands of bats in the mouth of this Bali attractions there is a temple Khayangan Jagat status.
Tenganan Village
Is a traditional Balinese country side with unique cultures and social life from the local community. It is one of the ancient villages in East Bali Islands where its society life different from the other village exist in Bali Island. Last visit during East Bali Trips is Tenganan Village. The societies of Tenganan Village strongly keep the unique activities and custom rule that is one of the fascinations for tourist to visit. The house building is kept originally including the model and function to support the rule of village. The word of Tenganan is ascribed by a Tengah root word which can mean to aim to middle of Pegringsingan, the fasten cloth type weave that is typically produce by Tenganan village resident in East Bali.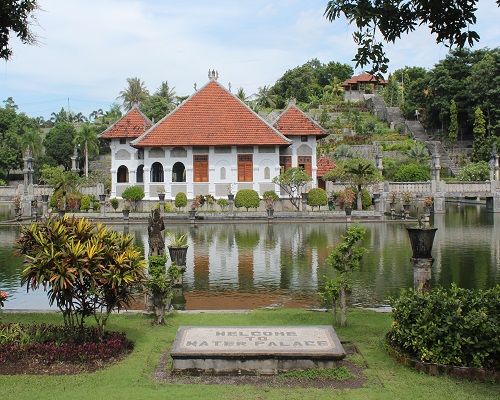 Ujung Water Palace
Is beautiful garden with fish pond surrounding the old building that is one of Karangasem Empire's omissions on East Bali Islands which has the high artistic value and history. Great place for stop and visit the site during East Bali Trips. This area is generally used by all kings for resting because this place is fully designed with artistic value so that the king his family can found their relaxation, refresh and enjoyable. Ujung Water Palace is a beautiful park with big fish pond surrounds the old Karangasem Empire heritage building in east Bali which is used by the Karangasem's King for day relaxation or meeting place in their era.
Tirta Gangga Water Palace
Is a beautiful garden with water fountain and fish pond surrounds at East Bali Islands. This garden is built by King of Karangasem for their relaxation with their family. Amazing place for visit during East Bali Trips. This garden is utilized by empire family for bathing place and now have been arranged natty and fascinate. There is big clean water source that is poured into a channel and go to the tower to make a water fountain. The water palace of Tirta gangga was built in 1948 by King Anak Agung Anglurah Ketut Karangasem in east Bali, This palace has been shaped in the form of a beautiful water garden and it is located near a natural spring.
East Bali Trips Itinerary :
08:00 – Pick up at the hotel
09.30 – Visit Goa Lawah Temple
10.30 – Visit Tenganan Village
11.30 – Lunch
13.30 – Visit Ujung Water Palace
14.30 – Visit Tirta Gangga Water Palace
15.30 – Back to hotel
17.00 – Arrive at hotel
East Bali Trips Price :
We offer two price you can choose which is Regular Tours Price and Inclusive Tours Price, Please see below the details of East Bali Trips Packages price :
Regular Tours Price :
IDR. 500.000/car ( 1 till 6 person included)
Inclusive Tours Price :
IDR. 550.000/person
Note : For Inclusive Price is minimun Booking 2 Person
Inclusion : Private Car / Minibus / Bus + Petrol + English Speaking Driver + Entrance Fee + Lunch Indonesian Food + Mineral Water
Area Covered for Pick Up :
Seminyak, Legian, Kuta, Nusa Dua, Jimbaran, Sanur, Ubud, Denpasar.
Please contact us for pick up in different area
Note :
Regular Tours Price : is a Bali day trips price without include lunch and entrance fee, you need to pay by your own self
Inclusive Tours Price : is a Bali day trips price with include lunch and entrance fee
The tour is Private Tours, means there is no other participant, just only you and your companion
The Tour will assist by English Speaking Tours Driver
Tour Guide can be requested, have to pay for guide fee IDR. 200.000/day, contact us if you want to request Tour Guide during the trips
Time and Tourism site is subject to change based on your request.
Use contact form provide to send us message, asking information or make tour booking request.
Terms Payment
Payment is Cash Payment ( 10 – 12 hours )
Payment is on the day itself with our driver
Payment with other currency will convert based on daily exchange rate